My dad gave me a tripod and a remote for my camera this past weekend!  Last night Jason and I tested it out for fun.
Yes I'm still in my scrubs from working at his chiropractic office.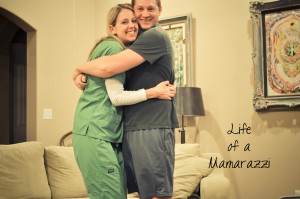 This is going to be FUN….finally pictures with my kiddos!
But that also means I must start looking decent…no more scraggly ponytail and pj's!
Check out the other posts at and then, she {snapped}
Until next post…
The Mamarazzi