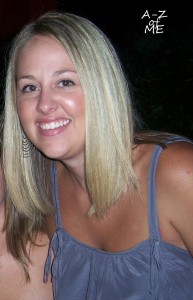 A little bit about me on your Thursday! I saw this over at my friend Many's blog, The Fabulous Baby Striblings and wanted to do it as well.
A. Age: 30 and it seems like 31 is coming faster this year! At least I married a man who will always be a little older than me. 🙂
B. Bed size: KING!  FINALLY!  I'm 6'1″ and my husband is 6'3″ and we have always had a queen until this year.  We finally have a bedroom big enough for a king.  I LOVE IT!
C. Chore that you hate: Cleaning toilets.  UGH!  I'm starting to hate doing the dishes because with four of us eating at home a lot, I feel like I'm always doing them!
D. Dogs: LOVE DOGS!  Total dog person but don't have any right now.  We had a St. Bernard for 12 years who passed last November from lymphoma (we got her RIGHT after we started dating so she was our baby) and we had a toy yorkie but with all the changes (babies joining our family, moving to OK, moving into our house in OK, etc. she wasn't getting any attention and was miserable so a friend has her.)  Once the boys can help take care of a pet we will probably get a goldendoodle.
E. Essential start to your day: Coffee.  HAVE TO HAVE IT!
F. Favorite color: Green to wear but love my Oklahoma State Cowboys so ORANGE POWER BABY!
G. Gold or Silver: Depends on the outfit. I'm loving gold more and more.  Working with Stella & Dot (see "My Shop" above) their gold jewelry is addicting!
H. Height: 6'1″. I'm tall:)
I. Instruments you play: hmmm, none really.  Almost took up piano when I was younger but considered the recorder my main focus at the time.  See how well that panned out for me.
J. Job title: Domestic-Bliss-Keeper at Schluter House, Chiropractic Assistant for about 10 hours a week and Stylist for Stella & Dot.
K. Kids: my two BOYS who were completely worth the wait, Fynn & Sutton born January 19, 2010.  Seriously still to this day so amazed I GET to be their mommy!
L. Live: Tulsa, OK in the heartland of America!
M. Mother's name: Pam, see posts about Grammie Pammie who passed when I was 18.
N. Nicknames: The husband calls me "babe" and boys call me "mama" GOOD ENOUGH FOR ME! 🙂
O. Overnight hospital stays: when I was 17 and in a HORRIBLE highway car accident and when the boys were born
P. Pet peeves: when people aren't nice.  Seriously though.  How hard is it to JUST BE NICE?!  When I'm in line at the store and I have a ton of stuff but the person behind me has only a few things, I let them go ahead of me.  When I'm driving and someone is trying to pull out in front of me but can't because of traffic, I stop and let them go.  IT'S NOT THAT HARD PEOPLE!
Q. Quote from a movie: "I invented Post-Its." 🙂
R. Right or left handed: Right!
S. Siblings: Older half-brother, Brad. My big brother Uncle Jordan is 18 months older and I have two sisters-in-law who I consider sisters, Jenny who is only a few months older than me and Janai who is 17, almost 18.
T. Time you wake up: MWF I get up and go to my gym classes at 5 but come back home and sleep until the boys wake up at about 8-9.  On Thursdays I have to wake up before them to get ready since I have to take them to MDO.
U. Underwear: VS
V. Vegetable you hate: Onions. Will make my husband cut his own for chili and tacos.
W. What makes you run late: REALLY? I have 20-month-old twins, what more of a reason do I need?
X. X-Rays you've had: teeth, body (from a car accident) and back and neck (chiropractor) and my knee since I've had 4 surgeries from the car accident.
Y. Yummy food that you make: I've never been good in the kitchen, that is the reason I married my husband but I can make a good red beans & rice or chili.
Z. Zoo animal: Monkeys!  LOVE MONKEYS!
Until next post…
The Mamarazzi