**I've had technical difficulties so this post has taken a few days to get up!
I have 1 1/2 year olds!!!!!  So crazy to think about how fast it has all gone by!
At 18 months old my boys are pretty much AMAZING!  They are sooo adorable, fun, smart, sweet, funny and too many things to capture into one sentence.  They are so smart….or at least we think so.  You show them how to do something once they pick it up.  That might be a bad thing down the road.  They say mama, dada, banana (nana), ball (baw) and Sutton just learned "no" and Fynn learned "dirty."  They do a LOT of jibber jabber and "twin talk," which is hysterical to watch.  They get so serious and you can tell one will be telling the other something very important.
Fynn or Fynnie or Fynnie Boy is my sweet, sensitive, calm child.  He has always been a little studious one.  He LOVES books and figuring out objects and spaces and how everything works.  When I make a "fish face" at him he spends the next few minutes REALLY trying hard to figure out how to do it.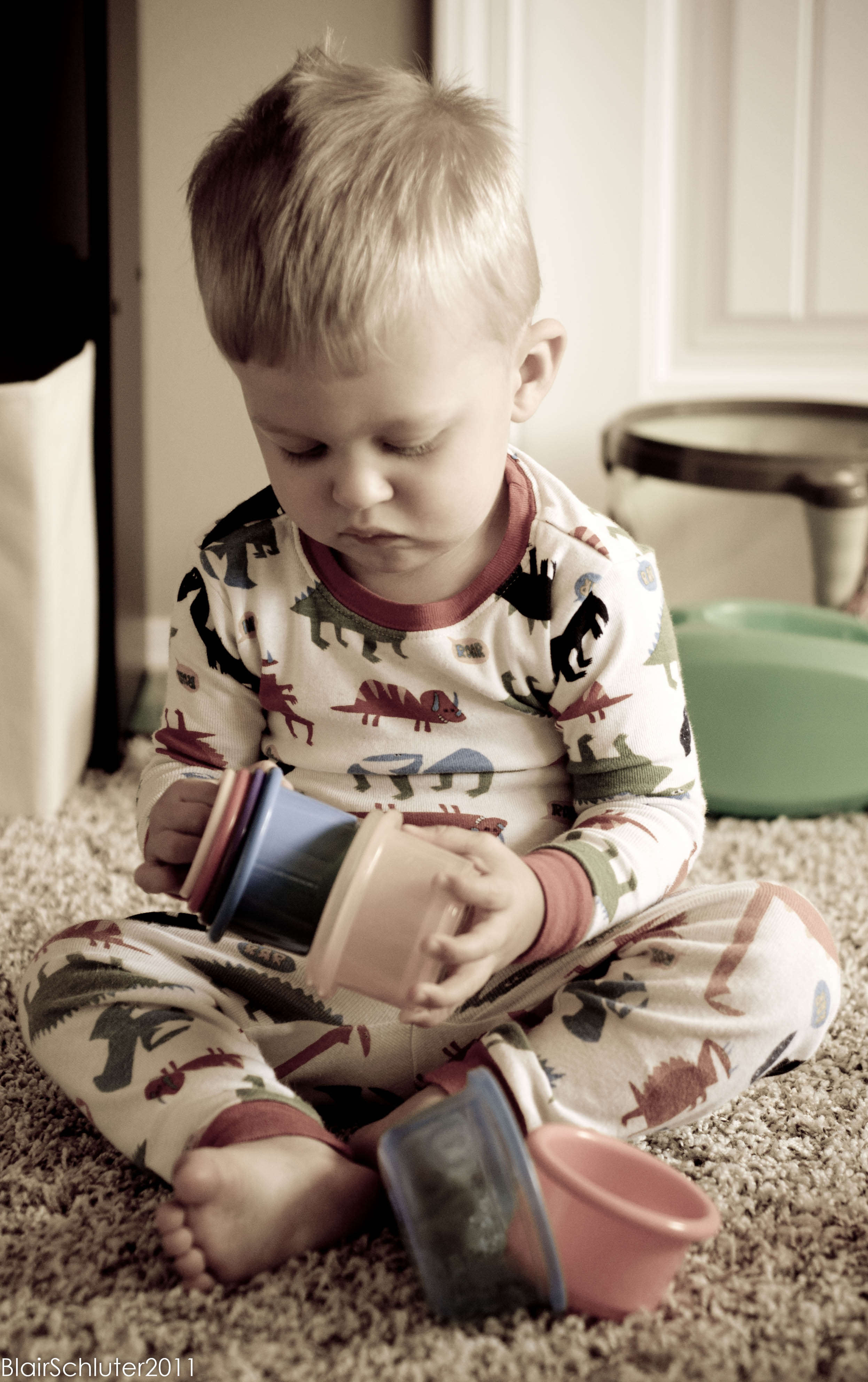 He still loves to play with balls….basketballs, soccer balls, bouncy balls, any balls he likes.  He loves to pick one up and say "baw" all loud and proud.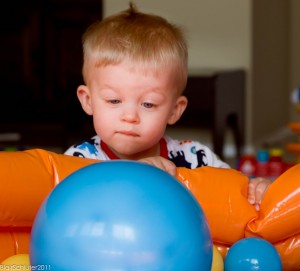 Most of the time he goes RIGHT to sleep when he gets in his crib for nap or bedtime.  He loves to brush his teeth and pick up stuff off the floor to help mommy clean.  Sutton enjoys emptying the ball pit in the game room and Fynn will start putting them back in right away.  He is working on his 2nd molars and just now has started to fuss a bit.  He hasn't fussed a bit through 18 months of teething!  This boy LOVES cartoons.  It is scary how focused he gets when they are on.  He likes music and will dance with a serious face.  It's comical from my point of view.  He had become a bit less picky with food….this boy would not TOUCH meat or veggies and was very picky about everything once we went to finger foods.  He has started eating organic all beef hot dogs, meatloaf, strawberries, oranges and more.  He even ate broccoli!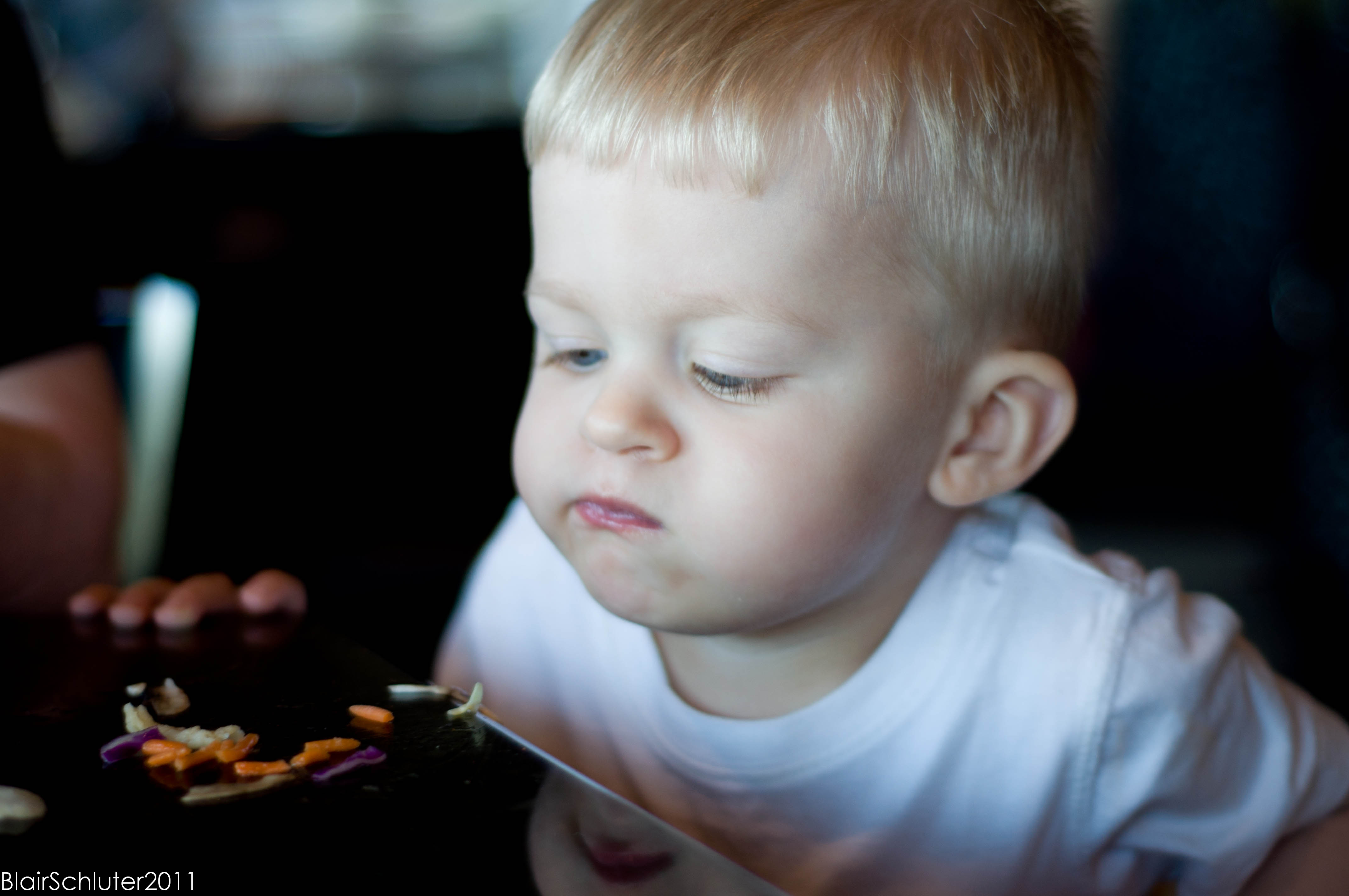 He likes to point and talk but I just wish I could understand what he was trying to tell me.  I can tell him to go pick up something and bring it to me and he will.  He still has the craziest hair!  Those two cowlicks in the back will sure frustrate any hairdresser in the future.  Fynn is the more independent child and does not need a lot of affection, even though we smother him with loving!  He could be content just running around on his own.  He is overall mostly calm yet sometimes he gets a spark and will RUN and RUN and LAUGH!!  And he loves to give "high-fives!"
Sutton or Sutty or Bubba is my passionate child.  He smiles and laughs straight from the gut!  He will do something good like fit a puzzle piece in its spot and will look up at you as if he is saying, "Did you see?"  I am always watching for these looks to give him that reinforcement he needs.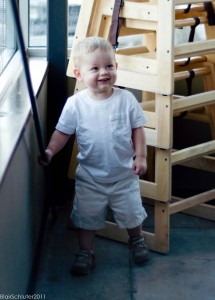 He is definitely more cuddly and affectionate.  He will chase his brother around trying to give him hugs and kisses.  He will OPEN MOUTH kiss too and it's hysterical because he won't give just one kiss, he has to give multiple.    He LOVES to turn things over and make a mess!  His favorite thing is to flip the ball pit over and then run around in the balls laughing!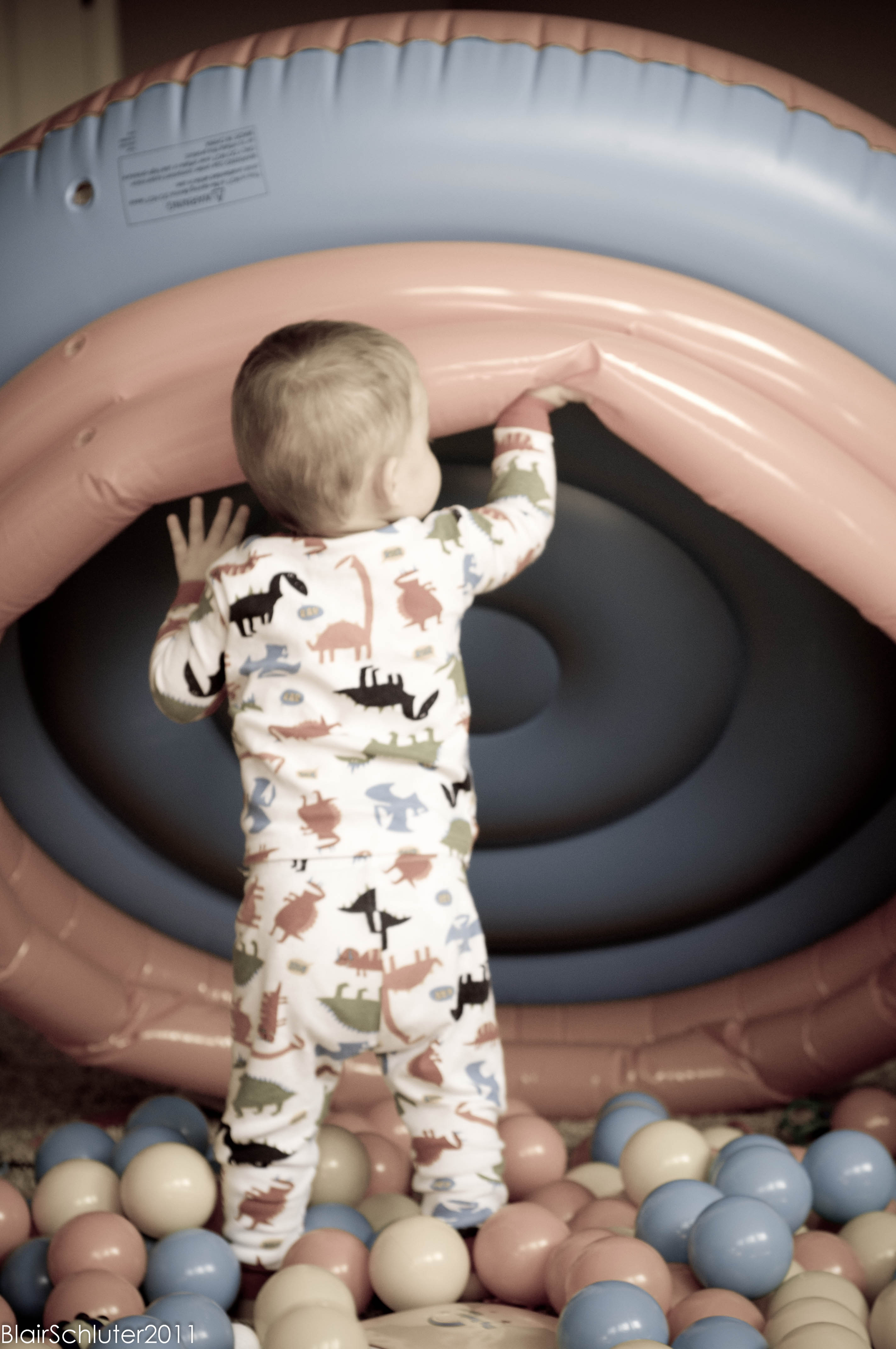 He tends to throw tantrums, which we are working on but this kid is mild compared to some so I won't complain too much about them.  He too hasn't fussed much at all in 18 months of teething!  He loves to just chew on his hand or try and bite everything….toys, books, spoons, etc.  Sutton is GREAT at sharing….for the most part!  If his brother does not have a toy like he does, he will pick it up and bring it to him even if Fynn wasn't looking for it.  He makes sure Fynn has his bear every time Sutton has his mouse.  He loves to walk around the game room and pick up toys and bring them to me with a big grin on his face.  And he loves to bring you SHOES!  He will literally pick each one up and bring it to you.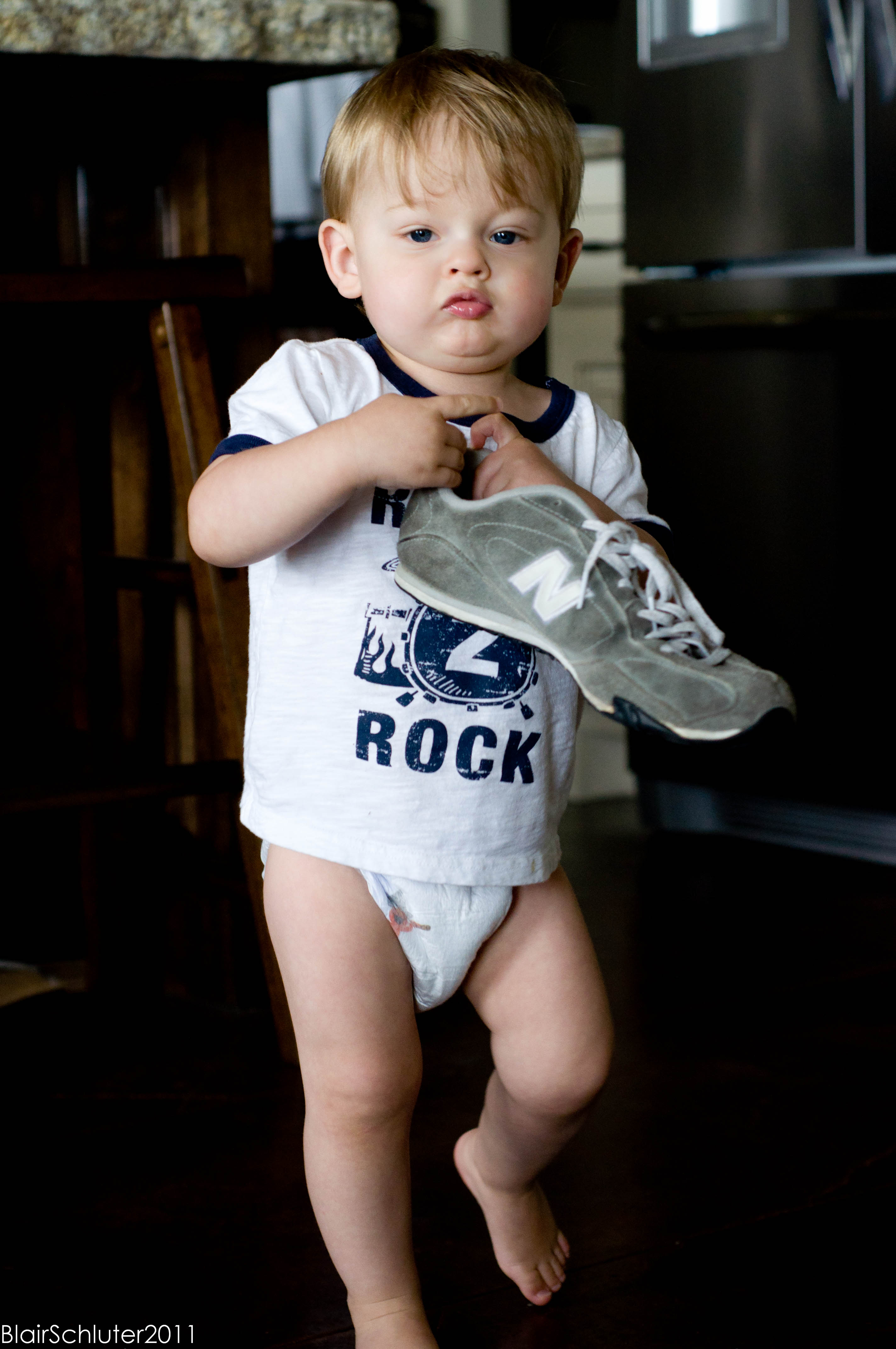 And this kid is CHATTY!  He will just jibber jabber ALL DAY LONG….in his crib, at breakfast, in the car, before bed.  ALL THE TIME!  He even softly hums when we put him down for bed, as if he hasn't been able to get out all he is trying to say during the day.  He too loves to dance and really loves to do the "fist pump" especially in the car.  He is sooo goofy he makes us laugh every day.
The boys are on a great schedule now.  We moved to one nap a day a month or so ago.  They wake at about 8/8:30 and I make their breakfast while they talk in their cribs and entertain themselves.  Once I bring them down and we eat breakfast, we will either go run errands or go play or if they are still a little cranky and tired we'll cuddle up and watch some Sprout.  If we run errands it is kind of limited to only place with double carts or places where our double stroller will fit.  We will also go see Daddy at the chiropractic office and get adjusted!  They eat lunch around noon and then go down for a nap around 12:45/1 and will usually sleep anywhere from 2-3.5 hours.  When they wake from their nap they get a snack and a TINY bit of juice diluted with water.  Then we either run errands (if we didn't in the morning) or we play, sometimes outside.  We have a sand/water table, bubbles, a lawnmower, sidewalk chalk, etc.  It's been SO HOT outside we don't last long out there or we just wait until before bed.  THEY LOVE THE WATER HOSE!!!
We've also been going to the splash park and our neighborhood pool.  The neighborhood pool is AWESOME for toddlers because the entry to the water is like a ramp so they can walk and play in the water without a parents having to hold them the entire time.
Life is getting more and more fun with these two.  They are my little buddies that is for sure!
Until next post..
The Mamarazzi