Well it has come and gone…it happens too fast.
It's like your wedding day….you plan and plan and plan and then it seems like you blink and the day is over.
Saturday was the boys' 2nd birthday party and it was a success!
For their first party I went OVERBOARD!  TRULY OVERBOARD!
The party last year was a pirate theme and we had everything from special hats for the boys to custom banners to treasure chest goodie bags….overboard.
This year I wanted to do something fun and out of the house so we narrowed it down to 3 places.  Two of those places were going to charge me EXTRA for twins.  That ruled those places out pretty fast.
We chose Tulsa World of Gymnastics.
It was perfect!  There was stuff for every age and the best part is they are not outrageously expensive.
The staff was helpful and the kids had a BLAST!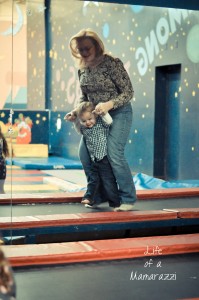 They have the trampoline walk-way, which the boys LOVE!
Here's Sutton with Aunt Kim…she's so great and so involved with the boys!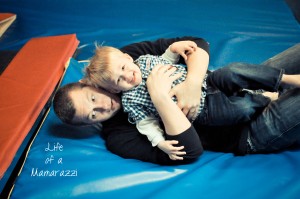 It took Fynn a few minutes to warm up enough to play.
Daddy had to show him how to roll down the mats….he looks like he is having fun!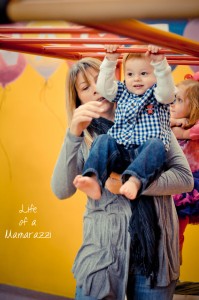 My little monkey with his Kiki!  The theme was monkeys, Jason even designed the invitations….something that has become a tradition I believe.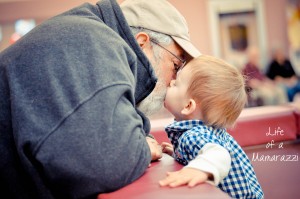 Kisses for Papa O!
At one point Sutton went around to each person standing, watching them play and gave kisses…..it was so SWEET!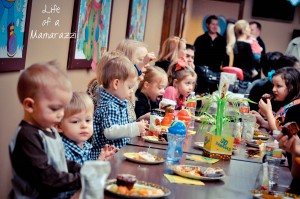 We took a break during the playtime to eat some lunch and have cupcakes.
Kiki, Jason's mom, helped me bake, ice and decorate 48 cupcakes Friday night and they turned out SOOO GOOD!
I've had my fair share of the leftovers.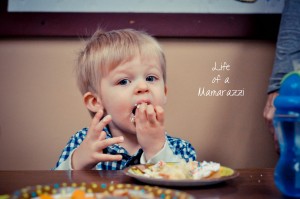 If you will recall from my Cupcakes post Fynn is my non-sweets child.  We have offered him cookies, cupcakes, pie, etc.  He always turns his nose up at it!
So, I gave him a vanilla cupcake thinking he MIGHT eat it.  YEP!
Maybe 2 will be the year he decides to like sweets.  Granted, they don't get sweets very often but at least he enjoyed it on his birthday.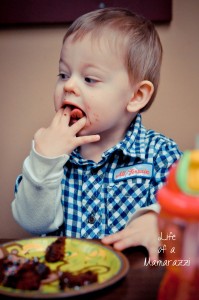 Sutton on the other hand is my SWEETS child!
He devoured his chocolate cupcake!
Once the party came to an end and goodie bags were handed out, we went to brunch at First Watch (MY FAVORITE!) with Jason's family.
The boys were past exhausted but they did great.
On the way home they were dazed looking out the window.
After their short nap – we woke them so they could play with their gift from us before it got dark – we ventured outside to their new
BOUNCE HOUSE!
It has two basketball goals and a slide…BOYS LOVED IT!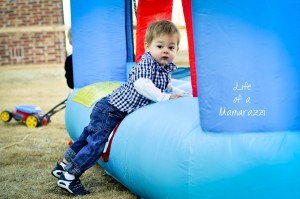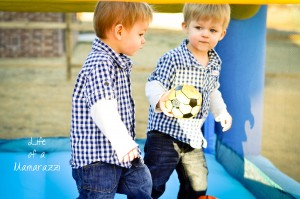 This will be so awesome once warmer weather arrives.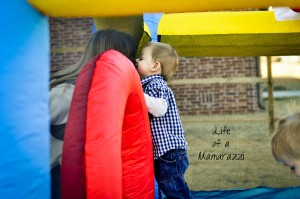 Sutton is such a Kiki's boy!
He is my KISSING boy!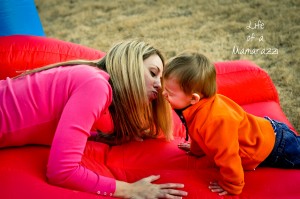 Here I am…I DO exist!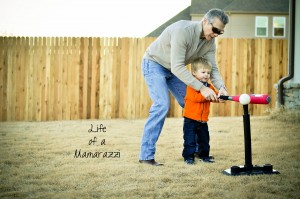 We even got to play some t-ball with Pappy!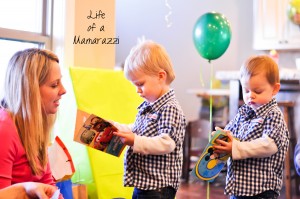 Instead of gifts we asked the guests to donate to Emergency Infant Services.
Our kids are abundantly blessed and are in no need of anything so we collected items to deliver as well as cash donations.
Please visit their website for more information and to donate!
They did get a few gifts from family so we opened those at home.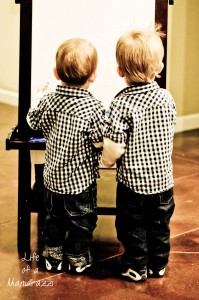 They got some Oklahoma State University Bullet pillow pets!
They got an awesome car track, lots of art supplies and an easel.
My babies are not two just yet….Thursday is the actual day.
I'll get more sentimental with that post!
Until next post…
The Mamarazzi