Yay for a holiday weekend!  We need a long weekend to recover from our first day of preschool.
The boys got report cards for their first day.
Fynn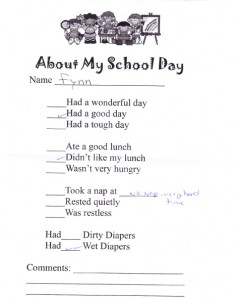 Fynn had a good day, not wonderful and didn't like the lunch I packed.  Picky eater!!  And we suffered the consequences of no nap for the rest of the day!
Sutton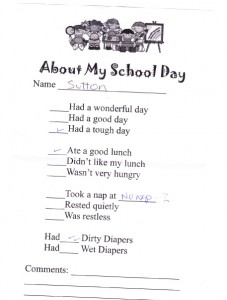 Sutton had a tough day, loved his lunch (little piggie!) and also didn't take a nap.  Thankfully he pooped at school and not at home. 🙂
When I went in to pick them up I took the wagon!  LIFE SAVER!  The halls are INSANE CHAOS!  Luckily both boys were ready and excited to go for a wagon ride to the car.
When I first saw them they had their mouse (Sutton) and bear (Fynn) and both boys had pacifiers in their mouths.  The teacher said they pulled them out in the morning to help soothe the boys but I am not a fan of letting them have their pacifiers all day.  They are 19.5 months and only get them in their cribs for nap and bedtime.  I understand it was maybe needed for first day anxiety but I won't let this become a habit.
Fynn was sound asleep in his carseat before I could even pull out of the parking lot.  They were BEYOND exhausted!  I tried to lay them down for a late nap when we got home but Sutton wouldn't sleep and Fynn only slept about 20 minutes.  Made for an AWESOME evening.  (Where is the sarcasm font when you need it?)
Overall I think they will grow to love it and hopefully grow to love napping on their nap mats.
I spent the day trying to figure out what to do.  I haven't had free time like that in…well I can't remember!  I've worked since college and up until just a few weeks before the boys were born.  Those few weeks of freedom at home before their birth was spent resting and trying to breath with two babies in my belly.
Within one hour of my freedom I had grocery shopped and was sitting at home staring at the wall trying to figure out what to do.  I kept listening for a baby monitor and trying to be quiet but kept realizing I didn't have to do that.  I got the rest of the laundry done, vacuumed, cleaned up, worked on my Stella & Dot business, blogged, went to Akins and ate lunch.
I kept looking at the clock and then at their schedule thinking about what the boys were doing at that exact moment.  I texted my husband when they were outside and said, "The boys are outside playing right now."  He texted back, "Did you drive by?"  Haaaa!  He would think that I would do something like that.  But nope no drive-by.
I was so excited to see them though and it made my time with them MUCH more important.  I just can't wait for them to be able to explain to me what they did at school.
Their class is made up of 8 kids – 4 boys and 4 girls.  My twins and my nephew (who is 12 weeks older to the day) make up 3 out of the 4 boys.  There is another set of twins – boy/girl twins in the class.  It will be fun to see them make friends with their classmates.  Maybe they will get a girlfriend! 😉
Overall, tough day but SO worth it and I can REALLY get used to having that time.  They go two mornings a week but one morning I will go help out in my husband's chiropractic office and the other I get ALL TO MYSELF!
It truly is MOTHER'S DAY OUT!
Hope everyone has a wonderful holiday weekend!
Until next post…
The Mamarazzi