This past weekend we had a fun play date with our friend Avery.  Her parents, Angie and Clint, are our good friends from college and they live about 2 hours away so our kiddos don't get to play together much.  Well we HAD to go see them because we missed them SO much!  We ALL had such a fun time!
When we arrived Friday the boys and Ave just hit it off playing.  Miss Ave has LOTS of AWESOME toys that kept the boys busy.  She taught them how to put coins in her piggy bank, introduced the boys to playing "kitchen" and even dolls!  They had such a good time.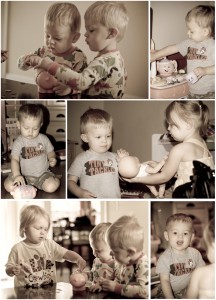 After the kiddos went to bed we got to play games and have some "adult time."  MUCH NEEDED!  Angie and Clint are such fun, down-to-earth people and we are so lucky to have them in our lives.
Saturday morning we took the kids to the splash pad and they WORE themselves out!  Avery is still a little new to the splash pad so it took her a few minutes to warm up but not our boys.  Sutton took off!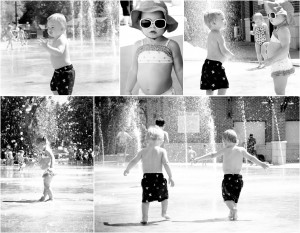 Miss Ave was SO adorable in her shades and hat!  It's so fun to spend some time with a little girl, especially having twin boys.  She is such a fun girl too.  She likes her girly stuff but she loved the boys' basketball!  My kind of girl!  She played so well with the boys too.  I mean, two VERY active boys came into her house and TOOK OVER her toy room.  She was great with taking turns and showing the boys how to do stuff.
I just wish they lived closer so we could play EVERY weekend.
We love you guys!
Until next post…
The Mamarazzi