No longer babies really….getting used to that slowly.  Yesterday my BOYS turned 20 months old!  Seriously.
Fynn
The older Fynn gets the more ornery he gets.  He is learning what "time out" is REAL fast.  But he is also so sweet and funny and loving!  He just gets wound up and thinks "no" is funny.  We'll see how long that lasts.
Fynn is getting GRADUALLY better about food.  He has eaten meatloaf and chicken a few times now and likes oatmeal more often than not.  He will DEVOUR some eggs and toast.  Both boys LOVE fruit and lots of it!  And both boys aren't fans of veggies.  But today at lunch Fynn didn't pick out ALL his veggies from his mac'n cheese.  🙂  PROGRESS!  Sunday night we had pizza and he ate some of the chicken, spinach, artichoke pizza, which made me proud.  He loves organic beef hot dogs, chicken dogs and veggies dogs as well as sweet potato fries and veggie chips.  And last night it happened….the inevitable….the boys ate CHOCOLATE!  We got Papa Murphy's Pizza and I got some chocolate chip cookie dough from there for dessert.  Daddy and I agreed to let them taste.  BOY DID THEY LOVE IT!!!  And I have to admit it was cute seeing the smeared chocolate all over their faces.  Fynn usually doesn't like sweets.  Recently for Miranda's birthday we had cake and ice cream and Fynn would have NOTHING to do with it.  And when we went to have cupcakes last month he wouldn't TOUCH them!  But chocolate he likes!
Fynn is talking more and more since he started preschool.  Not the clearest yet but I can make out what he is trying to say.  He will say mama, dadda, quack quack, dog, baby, bubba, pwease, ball, bear, down, bye bye, book, nana (banana), cheese and a few others I just can't remember.  He will try to say Wiggles because that is his favorite show.  I have an episode on the DVR I play to keep them entertained while I make them lunch most days.  He does love the word dadda and wants to call EVERYONE that name.
He loves books.  WANTS TO READ THEM ALL DAY.  Wait, I mean he will bring them to you for you to read to him.  Fynn is a wrestler all of a sudden.  He spent 45 minutes wrestling his brother last week and I got video to prove it!  Fynn likes to push the limits with Mommy and Daddy too.  When we are downstairs he likes to try and stand on the couch, which is a big NO NO!  He will also try to stand and run around our bed, also a NO NO.  Hence where "time out" has come into play.  He does understand "time out" and gets the SADDEST face!  But he is so sweet after his time is over and I know he is understanding the concept.
Also, this boy is a DANCER!  He will get really serious, point his fingers and do a little dance in a circle when he hears music he likes.  Fynn is a big kisser as well.  Anytime we are leaving a group of people he will go around and give everyone BIG kisses!  And he will also blow kisses.  When it comes to babies, he LOVES them.
Finally, he is doing so great at preschool!  He doesn't cry and walks right in.  He eats his lunch and his teachers keep telling me how sweet and adorable the boys are….I'm sure they tell all the parents that.  He is struggling a bit to nap well but he will get the hang of it.  I've put their nap mats down here at home and he will go climb into his so I know he doesn't mind the mat.
Sutton
Sutton's favorite thing to do is dump a storage bin full of toys and then one-by-one place them back in the bin.  But he will take random toys and bring them to me or Daddy and say, "thank you."  Anytime he hands anything to anyone he says, "thank you."  It is really sweet.
Sutton has become the PICKY eater all of a sudden.  And he LOVES the word, "no."  But he says "no" to everything!  I'll ask him, "Sutton, want to go watch some cartoons?"  His reply, "no" followed by him going in to watch cartoons.  He loves bananas, oatmeal, sweet potato fries, veggie dogs, cinnamon toast, strawberries and veggie chips.  Both boys LOVE LOVE LOVE Odwalla bars and Cliff bars.  Those are "treats."  The few times we have offered the boys sweets Sutton is the one who devours it!  Loves vanilla ice cream, cupcakes and chocolate chip cookies.  He gets that from his mama! 🙂  Both boys go through phases though of liking something and then not liking it a few days later.  Typical toddler I guess.  I just keep trying to give them things over and over and hoping they eventually just eat what I put in front of them.  We are definitely trying to do the "that's dinner" concept and it's hard at times but after a few minutes of fussing they will sometimes just EAT IT!
Sutton is speaking so much clearer since preschool started.  He will really try so hard to repeat everything we say it's so cute!  He says nana (banana), ball, tank ew, no, uh oh, choo choo, dadda, mama, quack quack, bubba, cheese and his favorite is to say "bye bye" with the hand movement and then blow kisses!  He will do this to everyone….even at Target.  They both will!  LOVE LOVE LOVE IT!!!
It's getting so fun being able to direct them….."let's go brush our teeth" and "let's go eat breakfast" and "let's go upstairs" etc. are followed by that action.  They are becoming such little BOYS!  I love it and yet I hate it because I miss the days of sweet babies snuggled up with me napping!
Sutton loves to DANCE!  He will spin and spin and flail his arms about.  He is the child that will always stop what he is doing and make sure you see him.  That grin of his is UNDENIABLE!!!  He too loves books and really likes the picture/word books where we point out something and he has to say what it is.  Loves making the animal noises like his brother!
When I take the boys to preschool I have to put them in their wagon because I have to somehow manage to get TWO TODDLERS, two nap mats, two backpacks and two lunch boxes all inside a building FULL of parents and kids.  The first few days of preschool Sutton CRIED AND CRIED when I left but drop-offs are getting easier each week.  Today I let them carry their backpacks into the room so getting them from the wagon to the classroom wasn't so bad.  Their teachers are SO sweet!
Both boys LOVE sports.  They love basketball and Fynn loves to throw the football and kick the soccer ball.  Makes mama proud!
Some Pictures Of Course….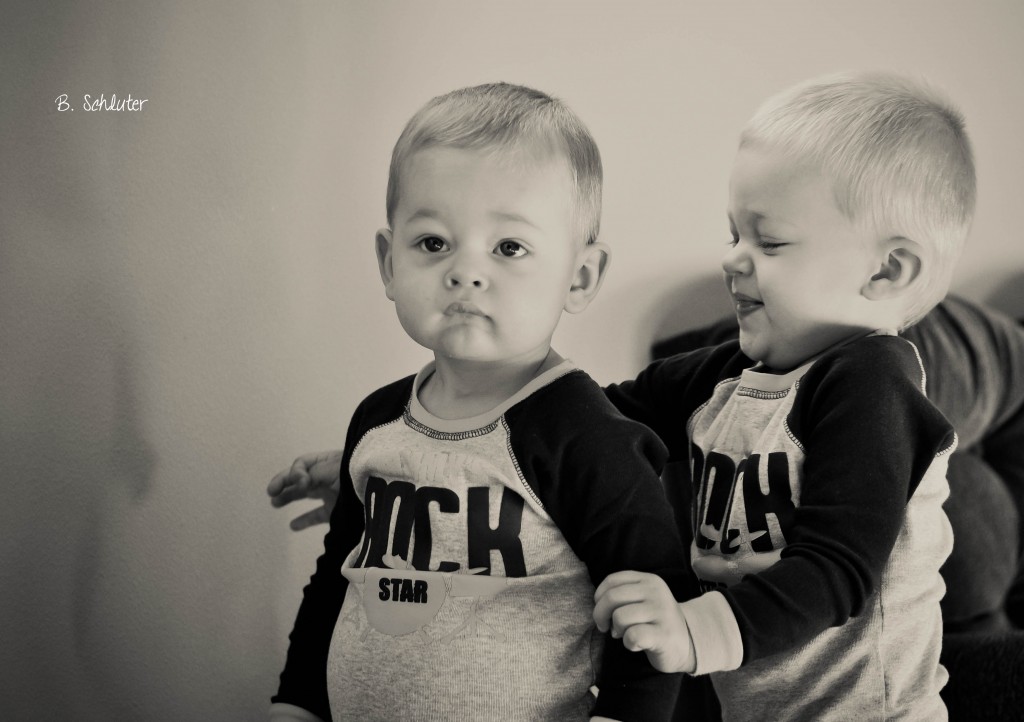 Fynn loves to come from behind and pull Sutton down.
Sutton doesn't seem to be too thrilled.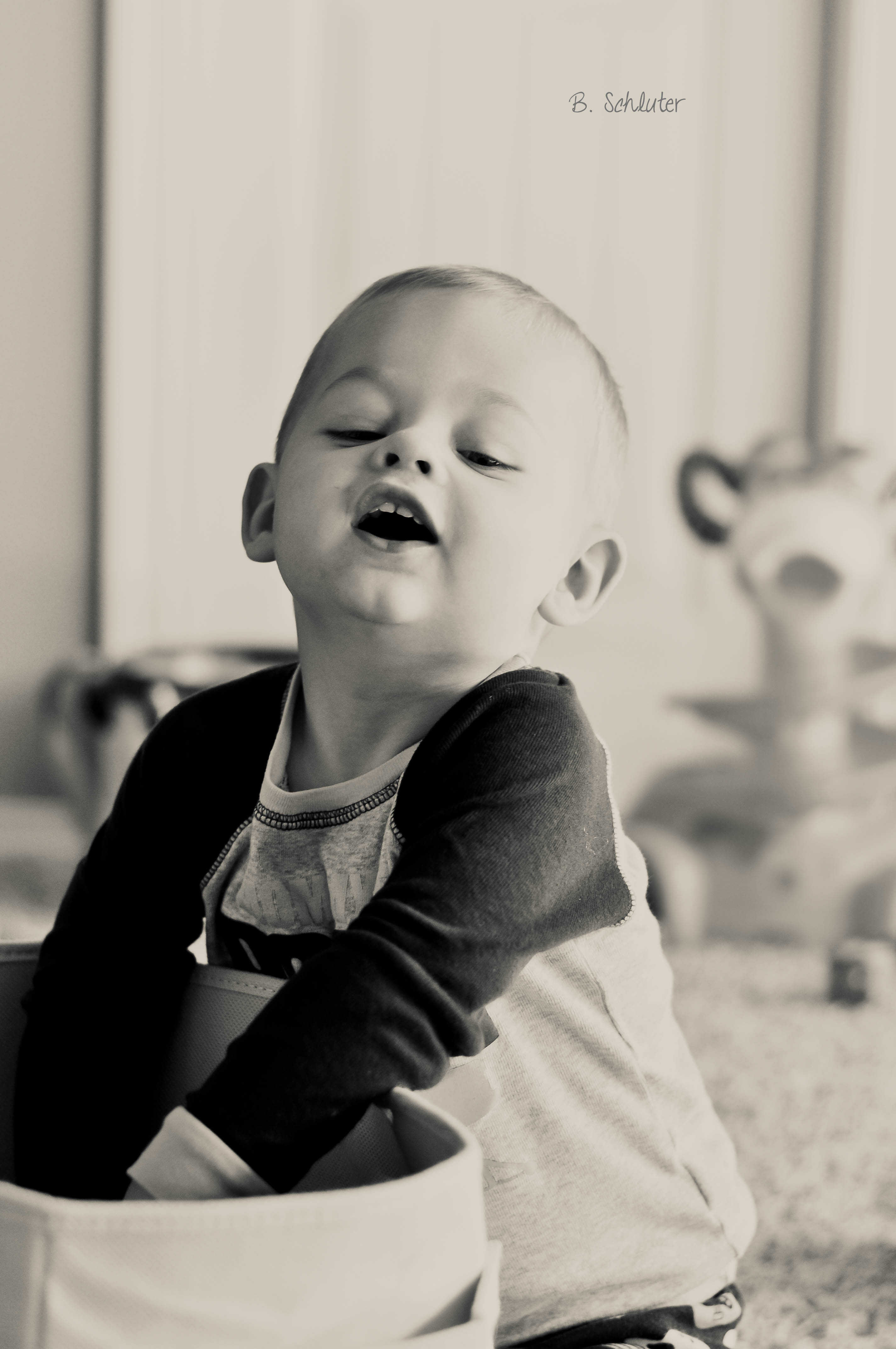 Here is the storage bin with Sutton putting his toys inside right after he DUMPED them ALL out!
Such a cutie!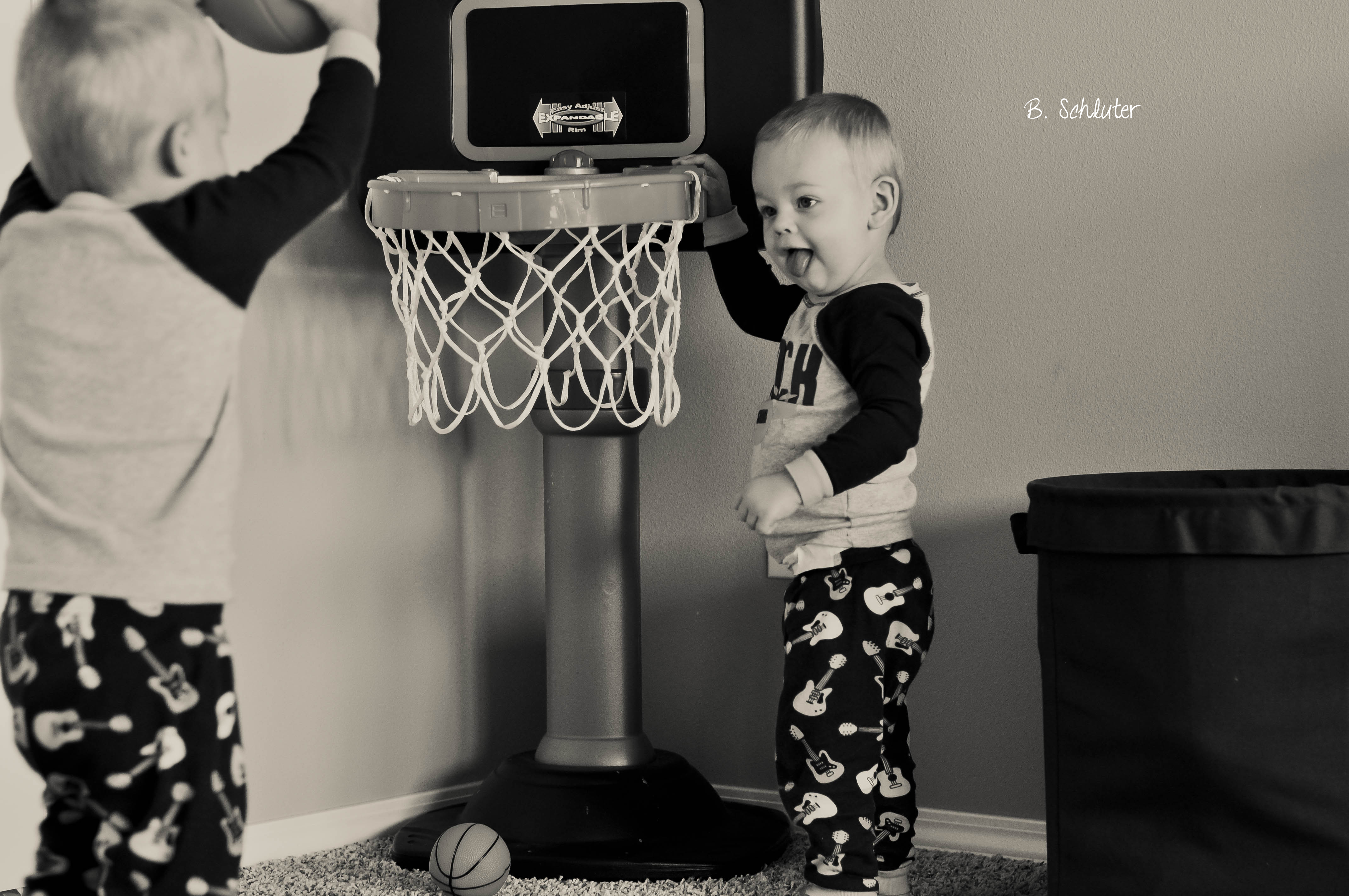 Playing hoops together!  Love the brotherly playtime and Sutton even has the Michael Jordan tongue action DOWN!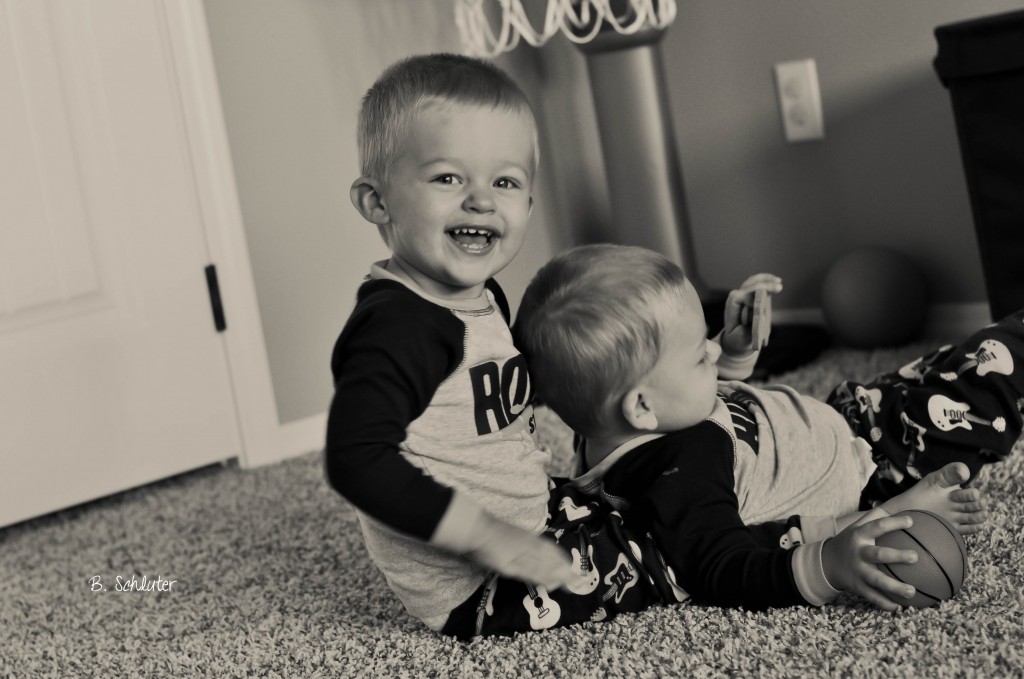 Who wouldn't love that grin!?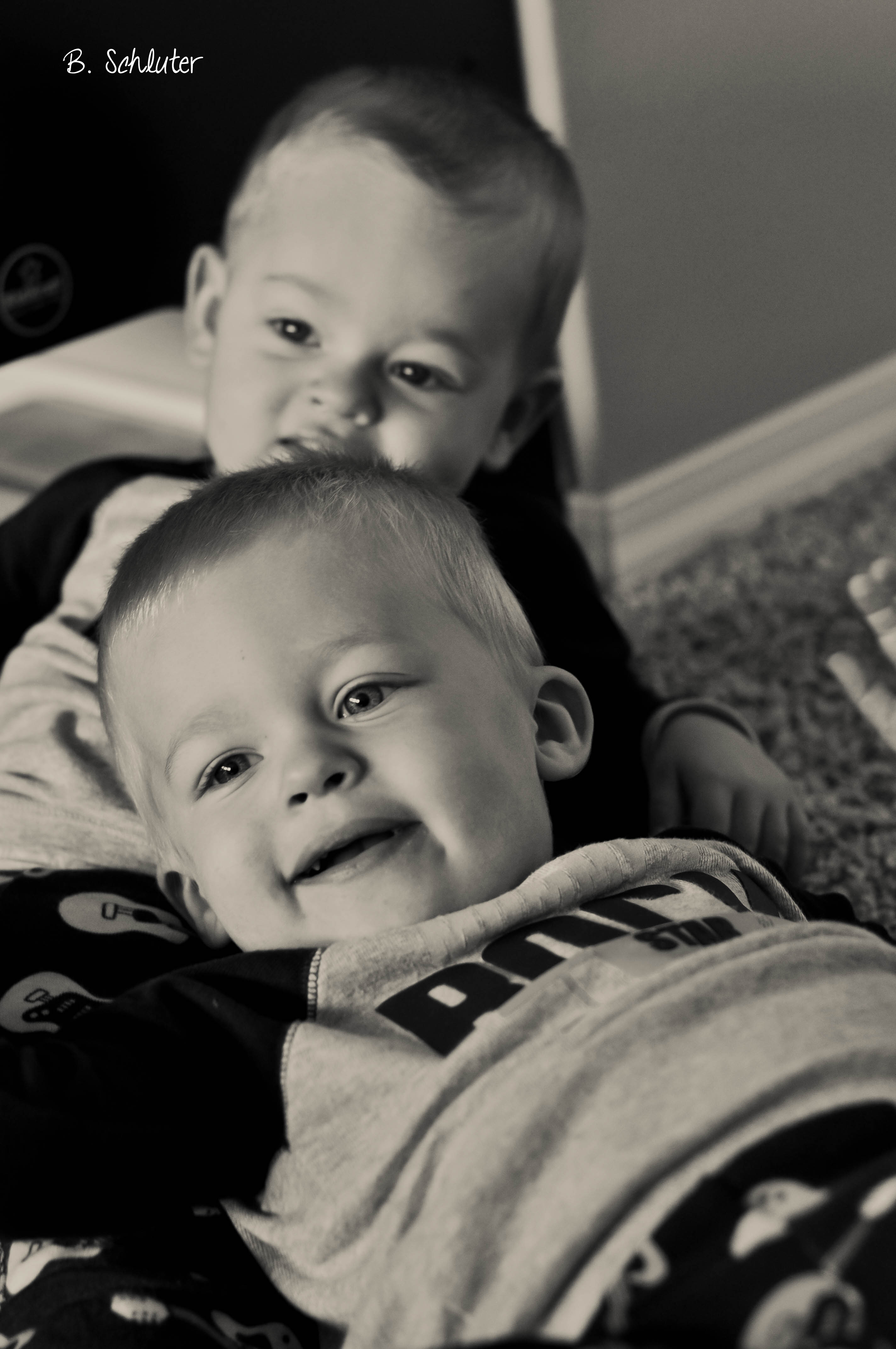 These are the moments I am so glad I have twins!  I'm so thankful they have each other.
My heart hurts with how much I love these guys.  I can't get enough of them!
My buddies!!!
Until next post..
The Mamarazzi