I've been slacking…yet again I say this…but we have just been busy enjoying this time of year.
I turned 31 on the 7th.  I went to a fun Christmas party for a bunch of ladies, which was fun since we got to hang out in our PJs.  I've had a few Stella & Dot trunk shows, which is nice to have the extra spending money for the holidays.  Jason has been working on the fence….SO CLOSE to being done.  In the midst of all that we have two awesome little boys keeping us entertained and busy.
Since 1999 I have DREADED the holidays.  Christmas of 1998 was 2 months TO THE DAY before my mom passed and we spent it on a Disney cruise and a trip to Florida with our entire family on my mom's side.  It was a lot of fun but that was when my mom first got sick and missed a lot of the activities.  Since then, I've missed her SO much during the holidays.  She was the one who was in charge of it all…..cooking, decorating, wrapping, etc.
Our tradition was we would get to open ONE gift on Christmas Eve but the rest was for Christmas morning.  We'd sit around in our jammies, eating breakfast and opening gifts.  We tried different scenarios – go around and each open one gift at a time, each person opens all their gifts at once, etc.  Gifts would get mixed up – one year Jordan (my brother) got Mariah Carey and I got Red Hot Chili Peppers (today I can say I would MUCH rather RHCP!) and we would all laugh and enjoy the awesomeness that was that time together.
The year after my mom passed I met Jason and spent that first dreaded holiday season with his family.  At one point I had to step outside because the level of love, fun, excitement, joy and comfort was overwhelming.  In the last 12 years it has become my favorite time.
My in-laws have different traditions.  Christmas Eve we sit around and open all our gifts – going youngest to oldest.  I think one year we drew numbers to determine the order but that didn't seem to last.  Every year we say "we are not buying gifts for everyone….let's draw names."  FAILS every year!  Last year we attempted to do JUST the babies and then play dirty santa but with good gifts and that was a lot of fun but did everyone end up buying everyone presents – YEP!
Last year was the boys' first Christmas and it was also my first holiday season I looked forward to since 1998.  Having children has healed that part of me but not fully.  I don't think it will ever be healed FULLY….just cured a bit with the grins I see when I walk in their room Christmas morning.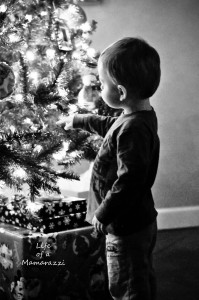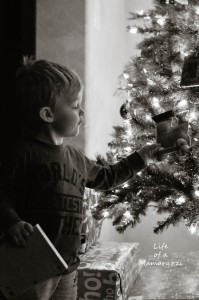 The boys bring so much joy to my holidays now.  Seeing everything for the first time through their eyes is truly one of the most amazing experiences one cannot even put into words.  Last Christmas they were not even one so it wasn't much to them.  This year….totally different.  They LOVE Christmas lights and they love our tree as well.  We put all the non-breakable ornaments on the lower part of our tree this year and they haven't managed to do any damage so that's good.
Christmas morning is when we will do "Santa" gifts, which this year they are going to be coming downstairs to find their very own SLIDE for our house (which can be used outside as well as in our gameroom), a new workbench from Papa O and two of these: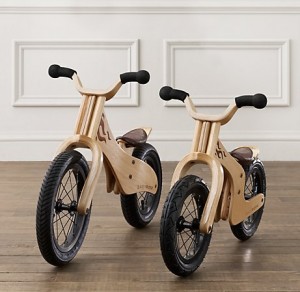 Yes they have helmets with them!
Until next post…
The Mamarazzi