Today we found out our sweet Sutton has a hernia.  This means surgery.  This means my baby will be "put under."
I noticed something was off earlier this week but every time I tried to show Jason it would be gone.  Yesterday after his nap it was worse.  We ended up at Pediatric Urgent Care for a couple of hours to find out it was a hernia.  They then sent us to the ER for an ultrasound.  We were there for over 3 hours!  With a 2.5 year old….couldn't eat dinner and was there way past his bedtime.  And at the end of our visit the doctor had no clear answer for us.  So, today we got to see an amazing pediatric urologist.  We were in and out literally in one hour!  Turns out it IS a hernia but he isn't in any pain and won't need surgery right away.
So, August I will have to watch my baby be put under and I'm not too excited about it.  I'm used to the bumps on the noggin, the bruises on the shins, the scrapes on the face, the bloody lip…I have twin boys and I am used to all that.  But, I didn't think I would have to deal with this until they were older.
My poor boys are worn slick.
Sutton didn't get to sleep until well after 11:00 p.m. last night and then they both woke up at 7:45 a.m., which is earlier than their normal time.  We then had to skip nap time for our appointment.
Tonight I left to grab some dinner.  I'm so exhausted I was not going to be cooking in the kitchen.
By the time I got home he was passed out on the couch.  Nothing was waking him up.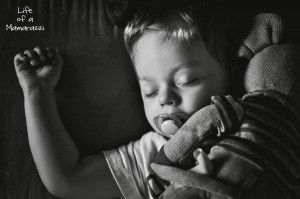 Here's to some good rest!
Until next post…
The Mamarazzi