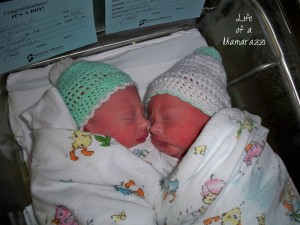 It's here!  My babies are TWO!
TWO YEARS OLD!
HOW?
I still feel like that woman who is praying and praying to just get pregnant and now I'm the mother of TWO TWO YEAR OLDS!
These two amazing, beautiful baby boys came into our lives at 6:14 p.m. and 6:16 p.m.
I had 35 weeks 6 days to prepare for twins and when they came it was clear I was not prepared.
The first 3-4 months of having multiples is by far the hardest part….in my opinion.
The bottles, the nursing, the pumping, the feeding, the diapers, the lack of sleep….it takes a toll.
We were so lucky to have help.  Kiki stayed our first two weeks at home then Grandma came for another two weeks.
There isn't enough money in the world to repay them for how valuable they were to us.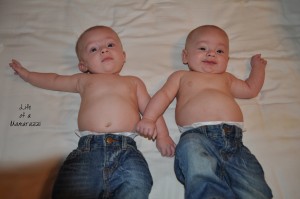 I've said it before and I'll say it again, never did I EVER think I'd have twins.
But, I LOVE IT!
LOVE IT LOVE IT LOVE IT!
Sure there are pros and cons but I would not trade my LIFE with anyone else.
It's a constant battle to make sure my time is divided evenly, food evenly, milk evenly, hugs evenly, kisses evenly….EVEN EVEN EVEN!
But at the end of the day I can lay my head down and KNOW my boys KNOW I LOVE THEM beyond words.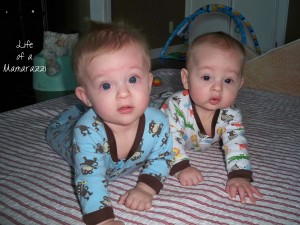 I know I am biased but I have to say we are SO LUCKY with our babies.
Sure they cry and may throw a fit here and there but for the most part they are such easy-going kiddos.
90% of the time they play so well together.
They are very polite.  When I give them something, anything they say "Tank ew" over and over until I reply, "you're welcome."
They are little lovies….Sutton especially….such a kisser.
At night before we put them in their beds I can say, "come give mama a hug" and they will run to me with open arms.
BEST.FEELING.EVER.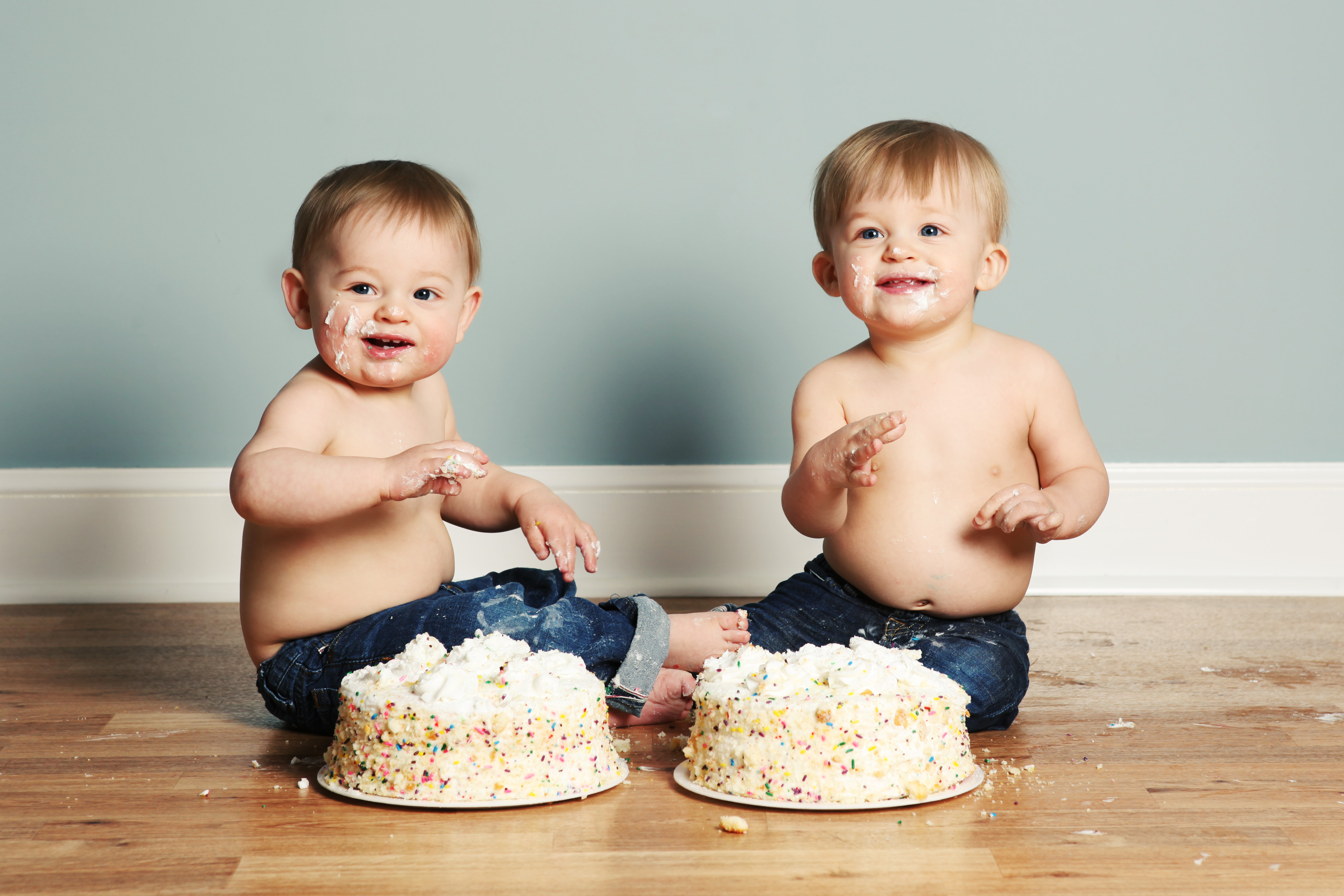 The first year was challenging yes but watching them change so much every day was such a wonderful experience.
Being able to be at home every day with them is such a blessing!
The first year FLEW by but this second year has gone by even faster.
Sutton has always been the talker of the two….since birth.  He used to sit in his nap nanny and mumble on and on and on.  I always wished I knew what he was saying.
Fynn has always had a mischievous side to him but such an adorable grin it's so hard to stay mad.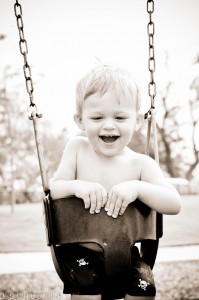 They both go through picky eating phases but Fynn will not eat sweets about 99% of the time.
He does not speak as much as his brother and his words aren't as clear as Sutton's but I understand what he is saying.
Fynn gets a little delirious and silly when he is SUPER tired and that is usually when he gets in trouble but for the most part he is such a sweet boy!
Fynn loves books and puzzles and trying to figure out how things work.
He loves to dance to the Wiggles and in the car he likes to bob his head to the beat.
He will usually eat more veggies than his brother and he LOVES his milk.
Fynn LOVES sports.  SERIOUSLY.  He loves his basketball goal, his footballs, his golf clubs…anything sports.
Makes me wonder what he will want to play when he gets older.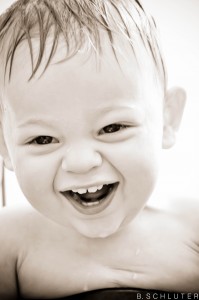 Sutton is just plain FUNNY!  He dances on demand for me…pure entertainment right there!
He giggles from the belly and repeats everything I say.  He has to describe everything around him, "mama's purse" "mama's coat" "fynn bubba" and on and on.
He loves to go in our closet and pick up something and say "dadda's" or "mama's" and LOVES to point out parts of the body…."nose" "teeth" "cheeks" and so on.
He is my little emotional, sensitive guy.  He's a snuggler and KISSER!
At his birthday party he went around kissing everyone.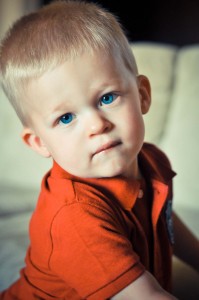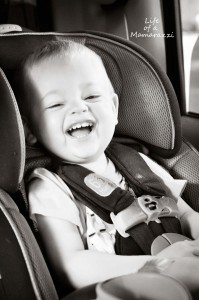 Yes I'm a typical PROUD mommy but it's hard not to be proud of these two.
I found out recently they have yet to be in "time out" at school.  They have manners.  They SLEEP GREAT!  Some mornings it's a struggle to get to school by 9:30 because they sleep so late.
They giggle and smile and play together.
What more could a Mommy want?
My babies are two and I just can't believe it.
Our second year of parenthood has enriched my life beyond belief and I am so anxious to see what will be for 2012.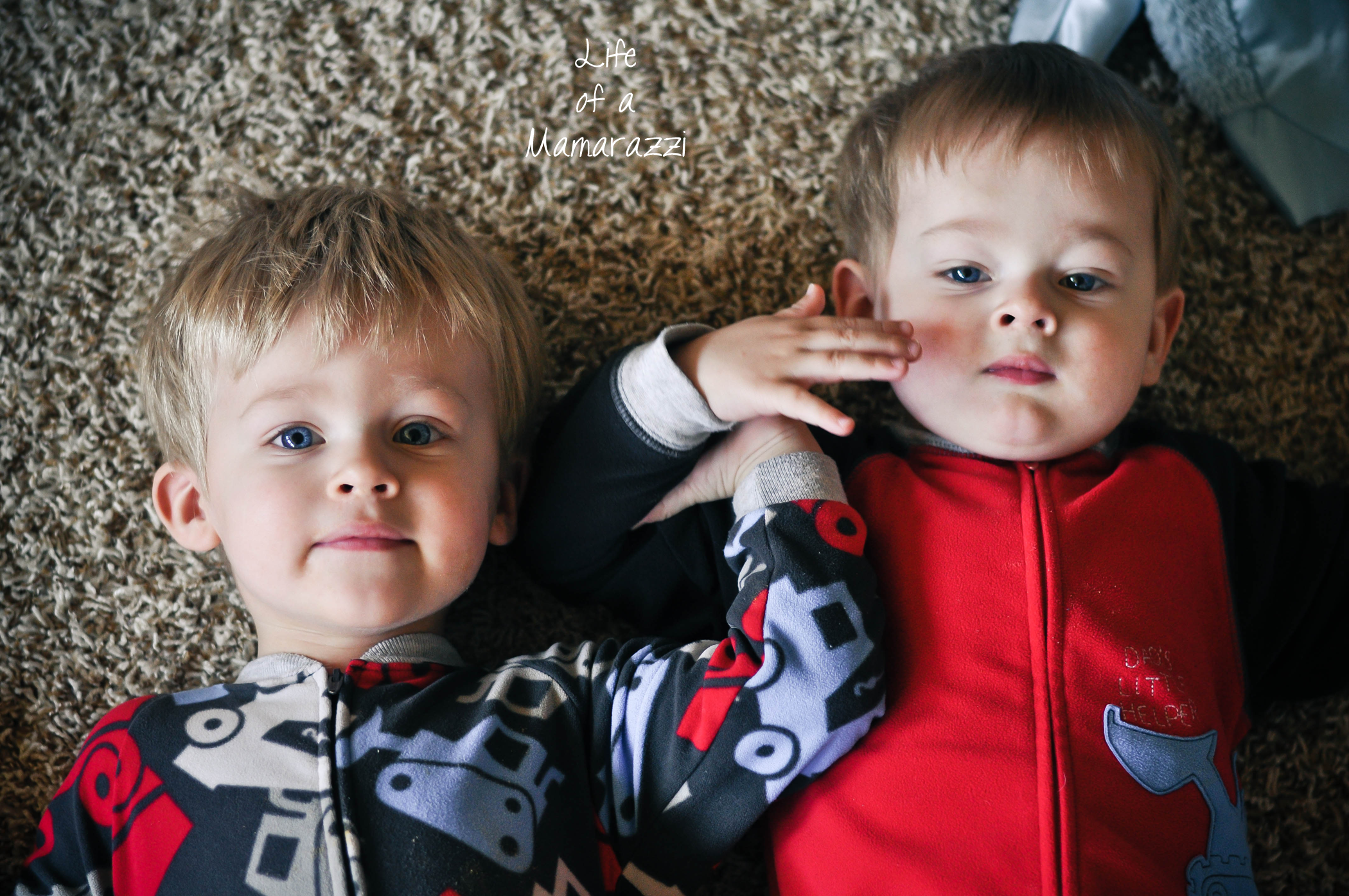 I don't like saying, "please make it slow down!" because the truth is I LOVE each new day.  Yes I miss those tiny babies laying on my chest snuggled up for hours but I always enjoy the conversations we have now and the interaction I get from them.  It seems like once a day or once every couple of days Jason and I look at each other with amazement when the boys do something or say something for the first time.
It's moments like those that make me so excited to see what tomorrow brings.
What will they become? What will they do with their lives?
It's amazing how TWINS can be so different yet share such an extraordinary connection.
My prayer is for them to grow, be healthy, be happy and continue to be the awesome little boys I thank God for every day.
Happy 2nd Birthday to my babies….you will always be my babies.
Until next post…
The Mamarazzi