I've mentioned before how messy our boys are when it comes to mealtime.  The other night was the messiest it has ever been.  They had some organic ziti with broccoli and focaccia bread.  Then they had blueberries with dessert.  We had to strip them down and clean them off in the kitchen sink.  What a mess it was!!!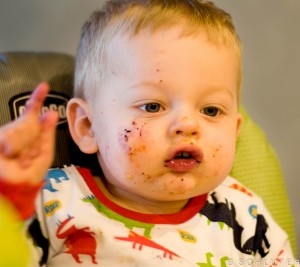 Sutton is WAY messier than Fynn that is for sure.
I'm thinking we should work on being cleaner…..they do start preschool one month from today.
Until next post…
The Mamarazzi