I have been procrastinating writing on here way too long!!  We have just been super busy enjoying life and all the new adventures.
Sutton recovered from surgery amazingly!  You would never know he had an operation.  We have been getting ready for the new school year to begin, my new photography business picking up, a Stella & Dot trunk show and some networking for the chiropractic clinic.
Last weekend Daddy went to Dallas for a guys' weekend so it was Mommy and the boys!
I have to say it was SO much fun…..for the most part.
Friday I took the boys to eat pizza for dinner.  This was my first dining alone with the boys experience.  They did great!
I then rewarded their great behavior with frozen yogurt, which they LOVE.
After a visit with Kiki and Pappy we went home and painted.
Usually when we paint it is at the table inside but this time I unrolled a large section of paper and taped it to the driveway.  The boys crack me up!  They love to paint but never do anything but dots.  They literally just put the brush on the paper and blob it, then move to a blank spot.  I will try to encourage them to let go and get crazy with the painting but nope.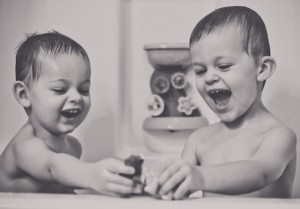 After we painted it was past our bedtime but we snuck in a quick bath, which is always fun.
Then came the worst part of the weekend!
99.99999% of the time our kids go to bed SUPER easy.  We say, "time to go night night" and everyone heads upstairs to brush teeth/bath/pajamas and we say prayers, give kisses, do our family kiss and lay down.  Simple as that.
Well of course the night Daddy is gone Sutton decides to put up the worst fight ever.  I have no clue what was wrong with him but if I wasn't holding him he was climbing out of his bed, screaming, hysterical, shaking, sobbing….well you get the picture.  This went on for 1.5 hours!  I even had Daddy FaceTime to calm him down, which helped until we got off the phone.  I was literally sweating and exhausted by the time he finally fell asleep.
Saturday I had plans to take them to the park in the morning and then have a picnic but it rained most of the day.
Our friends, Aubrey and Cam, came over to play and have dinner, which wore them out.
Sunday we had brunch with Kiki, Pappy, Grandpa and Aunt Kim at our favorite First Watch.
Aside from Friday night's bedtime disaster it was such a great weekend!
Until next post…
The Mamarazzi