I've been writing this post in my head for over a week now.
Monday, February 13 the world lost an amazing woman, our Grandma.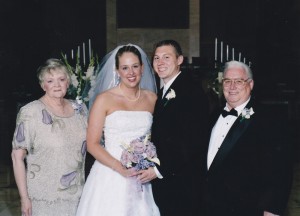 She had come home from the hospital the day before to stay at my in-laws while she recovered from her heart attack.  We brought the boys over after dinner to say hello and spend some time with her.  She was in a great mood and we were all laughing and enjoying the kiddos.  She said to me, "I'm so blessed to have so much family caring for me."  We left that night giving her a kiss and thinking we would see her the next day.
Then the worst happened.  When the phone rings before 9 a.m. I am always worried and this time was no different.  My mother-in-law called to tell us Grandma had collapsed and my brother-in-law and father-in-law were giving her CPR.  I told Jason to get over there and help in any way he could…..we live only 2 miles down the road.
Then I got the next call…doesn't look good.
In the midst of all of this my sister-in-law had to take her husband (my brother-in-law mentioned above) to the airport to return to Afghanistan from his 2 week R&R.  She brought her two kiddos over to my house and I was trying to grasp what was really taking place but I had to keep my composure for the kids.  Fynn kept seeing me cry and he would cry.
Finally the last, worst call came.  She didn't make it.
All I could do was pray it was a bad dream.
This woman had played a major role in my life since I was 18.
When I met Jason she instantly made me feel welcome and loved….she had a way of doing that with many people.
She made holidays fun and warm and entertaining.  And every year we said we weren't doing lots of gifts yet she always went overboard.
My first Christmas with Jason's family was the toughest…the first without my mom.  Grandma had heard I loved frogs so she went out and purchased any and everything with a frog on it.
SHE LOVED FAMILY!
When Jason and I were dating she would often say to me that if something were to happen to us she wanted to keep me!
Having lost my mom 8 months before we started dating and then my own grandmother 2 months after made life a bit difficult and very different.
Grandma did everything she could to know I had family and I was loved and it didn't matter if my blood was different from theirs.
I'll never forget when Jason and I suffered our miscarriage and I had to go to a doctor's appointment afterward but Jason couldn't come.  She did.
She consoled me in the waiting room and took wonderful care of me.
When we struggled for so many years to conceive she was so encouraging and kept telling me how excited she was to come stay with us when the baby was born.  Well, when we found out it was twins I was terrified and she reassured me she would come stay with us as long as we needed.  And when they arrived we were soooooo thankful for her!  She made us home-cooked meals, washed and sterilized bottles, did laundry, you name it.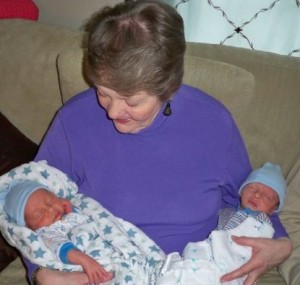 She was always willing to help when needed and she did it with such love it is irreplaceable.
Everyone knew Grandma and I stood on completely opposite ends of the political spectrum but that didn't mean we couldn't discuss the issues.  We could sit and talk for hours and hours without raising our voices or interrupting or anything disrespectful.  I really enjoyed those talks!
It's difficult to even begin to think about how different our lives will be.  She was so involved and we were so looking forward to the boys growing up with her in their lives.
She loved taking the boys out to the lake to feed ducks.
She was the grandma who would get down and play with the kids….always bringing fun new toys….bowling set, harmonicas, sidewalk chalk, bubbles and balloons.
She bragged to everyone about her grandkids and great grandkids.  She was extremely proud of Jason and his chiropractic practice.
She always complemented my blog and told me I was a wonderful writer, she even commented on almost every single photo I posted on Facebook.  When I went to visit her in the hospital a few weeks ago she was encouraging me to follow my dreams to write a book.
Our world is now forever changed and it isn't even real yet….may not be for some time.
I know I think of her every day and miss her even more.
I miss her laugh and the way she would always call me "sweetheart" on the phone.  She would always say, "kiss my boys for me!"
I'm thankful we were blessed enough to know her and all she did for us.
We love you Grandma and miss you.
Until next post…
The Mamarazzi