Having children 3 weeks after Christmas makes life a little difficult.  I'm so focused on Thanksgiving then Christmas that their birthday just sneaks up on me so fast!
They will be two January 19….SERIOUSLY?  HOW?  Yes the first year FLEW by but MAN OH MAN this last year seems like I literally blinked and BAM two is here!
I look back at their first birthday and it is so shocking how much they have changed.  They say soooo many more words and even phrases.  They eat better!  They are so smart!
Last Christmas…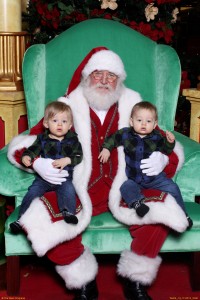 We took them to the mall and the woman working said we should not let them see Santa and just slowly back them into his lap and they will snap a photo.
It worked because two seconds after this was taken the boys realized something was up and freaked out.
This year we attempted once at Bass Pro in November…NOPE.  Fynn ran from Santa and Sutton screamed.  We attempted again last night with a friend's dad dressed as Santa….NOPE.
Both boys ran.  Maybe next year.
So here we are….23 months.  I think this is where we start saying they are "2" or "2 1/2" no longer will we refer to their age in months.
That means they are really growing up.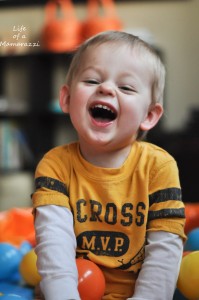 Sutton is my sensitive child.  He is the boy who will pass toys out to everyone and loves to give kisses and hugs and snuggles.  He can also be highly emotional when tired but also SO happy.  He will still giggle from the gut and he has so many expressions I could sit and watch him all day and wonder what is going through his head.
He LOVES Mickey Mouse and Veggie Tales.  He loves books.  He will say so many things and repeat what you say…better be careful.
He loves to point to a body part and say what it is…nose, eye, ear, cheeks, knee, hair, etc.
He loves to eat with his fingers…even oatmeal, which makes for a messy breakfast.
He LOVES his Daddy and says, "Kiki" at least once a day.
He has started hating naps, which makes me nervous.  Some days he will go right to sleep and others he stands or sits in his crib and just talks to himself.
But when he does go to sleep he SLEEPS for at least 2 hours.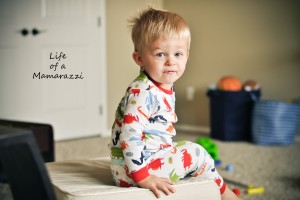 Fynn is ornery.  Yes he is without a doubt ornery.  But he is SOOO sweet and lovable as well.
His favorite saying is "where'd it go?!" while throwing his hands up in the air.
Fynn is a good eater and will use his spoon or fork, which mama likes.
Fynn always wins the "Good Sleeper Award."  He can go to sleep and stay asleep for 2-3 hours easily at nap time.
He LOVES to jump on the trampoline, which carries over to his bed.  He will stand in his crib in the morning and jump up and down and say "jump jump jump" over and over waiting for mama to come get him.
He too LOVES his Daddy!!
He really loves Veggie Tales and the Wiggles.  Books are his favorite and he could sit and study them for hours.
Daddy taught him to throw the ball overhand so he loves to do that with any ball he can find.
He still has crazy hair but it makes him who he is and at least it is cute at this age.
They wake up about 8:00/8:30 and eat breakfast.  Some random days they will sleep until 8:45/9:00, which I like but it does mess up their nap, making it harder to get them to take a good one.
We usually play or go run errands after breakfast but on Tuesday and Thursday they go to preschool at the church at 9:30 until 2:30.
Lunch is around noon then a nap about 1:00.
Snack when they wake up and dinner at 7:00.
To bed at 8:30 or 8:00 if they didn't nap well.
These two are the light of my life and I cannot BELIEVE they will be TWO!
Until next post…
The Mamarazzi