The boys were "page boys" in their first wedding last weekend!  The rehearsal was Friday evening and judging by how well that went I wasn't too confident in their ability to walk down the aisle the next day.  I had been working on getting them to TRY on their tuxedos for weeks but they always ran and said, "NO mama!"  They hated them.  It was as if they KNEW it was an important outfit and they just wanted to make me worry.  Saturday after their nap and snack we slowly put the tuxedo on…along with daddy putting on his suit.  "See Daddy is putting on his slacks."  "Daddy is putting on his shirt." And so on.  We eventually got the slacks, shirts, socks, dress shoes, bow ties and vests on!  AND THEY LOOKED SOOOO STINKING CUTE!!!!!
We got to the church an hour early and they were able to have enough time to warm up to everyone, especially the flower girl….Hollie.  They fell in love with her! 🙂
But when it came time to put their boutonnieres on they weren't having it!  That was a task!!!
Pretty sure Hollie helped with that!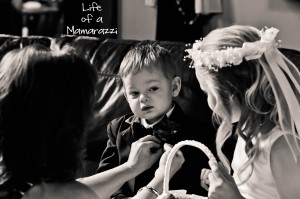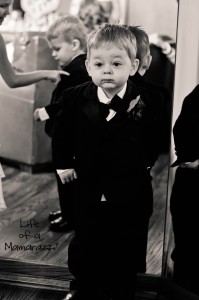 By the time we were all getting in position to walk down the aisle the boys were loving all the ladies!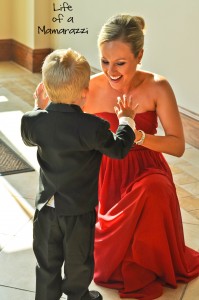 Their shoes did not come in half sizes so I had to order up…poor Sutton kept losing his shoe!  But, he would grab it and want it right back on his foot.
I wish I would have gotten some pictures of them actually walking down the aisle but I was at the front trying to make sure they came to me.  They walked down the aisle and right past me to Aunt Rue!  I was cracking up!  They didn't want their roles to end.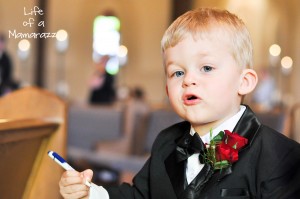 Luckily the ceremony was short and we kept the boys quiet with snacks but we had to stay after for pictures and they actually posed with the bride (Aunt Rue's sister) which wasn't shocking because they are used to having a camera in their faces!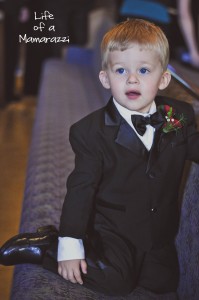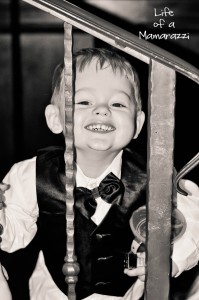 We took the boys to the reception for a little bit but they didn't get to hang out very long….they were exhausted from all the excitement.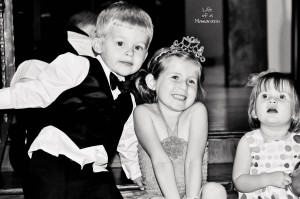 With our friends Aubrey and Camdyn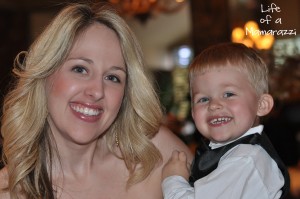 I think it is safe to say any tiny human in a tuxedo is about the cutest thing out there!  I am so proud of my babies!
Until next post…
The Mamarazzi