June 29, 2009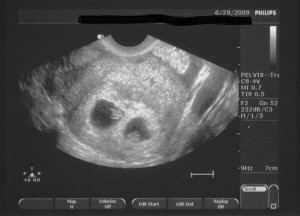 I meet people all the time who say, "I want twins!"  I used to find it so odd to hear because growing up I never ONCE even thought about twins.  I didn't know much about twins or multiples so it never was a topic of conversation.  When I was younger I envisioned myself growing up, graduating college, getting married and having A BABY.  It's funny what we THINK we will do and what God brings us.
I met Jason my first semester at college in 1999.  We moved in together within 6 months (drastic I know…our families weren't too thrilled) and when school let out for summer in 2002 Jason proposed.  Obviously I said yes and that following year, one month after I graduated college we got hitched.  Now, prior to the wedding we always knew we wanted to have kids we just didn't set in stone WHEN.
Well, we got home from our honeymoon and BABY FEVER set in.  I now warn all my girlfriends of this intense, sudden feeling as soon as the wedding festivities pass because I was NOT prepared.  It's funny because I hear girlfriends admit this feeling too.  I think we, as women, are sometimes programmed "first comes love, then comes marriage, then comes a baby in a baby carriage" so once the wedding is over, onto the next step.  Seems logical, right?
Jason had just started his undergrad work to eventually head to chiropractic college so it wasn't the most appealing time for us.  But, it happened and neither one of us thought it would.  We REALLY weren't trying.  So for our first anniversary we got to FREAK OUT that we were pregnant.  I will never forget the words popping up on the digital pregnancy test "PREGNANT!"  Okay, it didn't have an exclamation point but it felt like it did.  Up until this very moment I WANTED a baby but never once had I sat down and REALLY thought about what it meant to have a baby.  But once the shock wore off we were excited.  We knew we would just figure it out.
We announced the news to our family on Father's Day a week later and everyone was thrilled for us.  Fast forward to July 10 (yes I remember the day) I started having complications and we had lost the baby.  TALK ABOUT A BLOW!!  I took it extremely hard and found it to be a HUGE wake up call that I was not as ready as I thought.  Baby talk was put on hold.
Two years later, once we had moved to Kansas City and started getting settled the baby topic came up.  We had been to church that Sunday evening and the message was about finding your passion in life.  After that evening service Jason and I went to Village Inn and started discussing the subject.  I knew Jason was meant to be a chiropractor.  I had yet to meet anyone as passionate as he was about chiropractic and how much he genuinely wanted to HELP people….besides his father that is.  In our discussion I explained that the only thing I ever felt a calling to do was to be a mother.  Yes, I had attended college and received a degree in Advertising & Sales but that wasn't what I was PASSIONATE about, just something that sounded interested at 18 years old.
The original plan was to wait until Jason was done with school to start a family but that September evening in 2006 after our visit to church and the ever-romantic and enlightening Village Inn, we started trying to have a baby.  Jason explained to me that it wasn't fair for me to have to wait all those years to get to be a mother when I had supported his every decision toward becoming a chiropractor.
One month passed, two then three and finally six.  The worry set in.  The first pregnancy happened so easily and wasn't even planned.  WHY was it taking so long?  I started researching online for tips and tricks and all the fun things we can laugh about now (anyone reading this that has tried to conceive will be laughing as well), now that we have BABIES.  I came across a message board full of women who were in my situation.  I started checking in a few times a day and we all became pretty close friends.  It's amazing to see women support one another and encourage one another, even when they are struggling themselves.  And to this day, 4 1/2 years later I still talk to a majority of those women!
Nothing was working.  We tried supplements, acupuncture and a lot of other things I won't share with the world.  But every month was a disappointment.  Finally we came upon a year of trying.  My doctor suggested a Reproductive Endocrinologist so to him we went for answers.  We got our answers.  We were told we had a better chance of getting pregnant by going to dinner and a movie than going to the bedroom.  Talk about painful news.  The procedure he recommended was In-Vitro Fertilization.  The costs were OUTRAGEOUS and the process was intimidating.  We attempted IUI just to SEE if it would work.  No luck.  We decided to hold off and try more of the same.  That was September of 2007.
Skip through months of sadness, disappointment, frustration, tears, anger and so on.  We were trying to save and figure out how to pay for this procedure once we decided to actually do it.  We were approached by my stepfather in April 2008.  He said he would donate a very nice donation to the "Blair and Jason Want a Baby" project.  Bring on the water-works!  After that evening we realized we should seriously consider WHEN we would want to attempt this invasive procedure now that it was more realistic…..we decided we would address it after the first of the year.  Then 2009 came and I said, "Let's do it!"  With more contributions from family and our savings we were finally ready.
So we thought.
At the end of January 2009 we went in for the consult with our RE who went over every.single.detail.  We got started.  Not to bore you with the medical details…basically when the time came for the stim shots to start my body was not responding.  I was taking one shop a day.  This continued until April.  Yes, until April.  ONE SHOT EVERY SINGLE DAY!  Finally in April we took a break and were planned to start fresh with all new meds in May.  My body had a horrible time trying to respond positively to the meds but once it did the timing could not have been more PERFECT.
May 13, 2009 I got the news my grandfather had passed.  It was right after Mother's Day, which is already a very difficult holiday for me….I was missing my mom and working so hard to try and become a mom.  I went in to get my blood work at the RE's office before we headed home for the funeral.  The nurses and entire staff there knew us pretty well by that point and they were really cheering us on!  In the car on the way to my grandfather's house I got the email….EVERYTHING WAS PERFECT!  I finally could start the stim shots.
From that point on it was a blur.  I was doing 2-3 shots a day for about 11 days I think.  We went in for the egg retrieval on May 27 and when I came out they informed us we had 15 eggs!  WOO HOO!  If you know IVF terms you know that is great.  We then got the embryo report the next day.  We had 13 viable, healthy embryos.  We transferred two and of course now you know two stuck.  We even have 8 still frozen for future use if we choose to do so.
I write this post because I have met SO MANY women who were in my shoes.  Women who have experienced miscarriage and/or fertility struggles.  I decided from day one of this struggle to be an open book.  I want women out there to know what we went through so if they ever need anything they know who to ask because I was fortunate to have women like that in my life.
Did I ever think this was HOW I would get pregnant?  NO
Did I ever think I would have TWINS?  NEVER
Would I change anything about the entire experience?  HECK NO!!!
God's timing was so perfect in all of it.  I thank Him for the struggle, I truly do.  I appreciate my children more and more because I remember those days when I would just sit on the bathroom floor crying and wondering WHY this was happening.  I thank Him for surprising us with twins because that in itself is an experience I would never trade with another
Until next post….
The Mamarazzi