I haven't done a flashback friday post in forever and this week made me think of it because we have so  many changes with the boys!  We have been talking about doing three things…1) take away the binks/pacifiers 2) transition to toddler beds and 3) potty train.  Well with Sutton having surgery at the beginning of August we wanted to wait on all three.  So we decided we would wait to get rid of binks until Daddy got home from his weekend in Dallas.  So, one night he was working in the garage and I just decided to take them away…it was spur of the moment but I was just over them!  I talked for a few weeks prior about taking their binks and giving them to a baby because babies use binks, not big boys.  So that night I simply asked if they wanted to give their binks to the babies next door and they handed them to me.  Before they could second guess their decision and hid them in my pocket and diverted their attention to saying prayers and reading books.  Fynn maybe whined for a few minutes but they went to sleep fine.  The only bad thing is since taking them away Sutton has yet to take a nap during the day!  UGH!  But since then they have only mentioned them maybe one time.  Mission accomplished.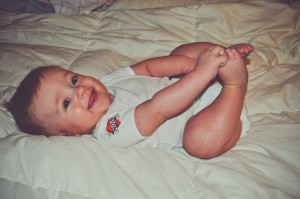 August 2010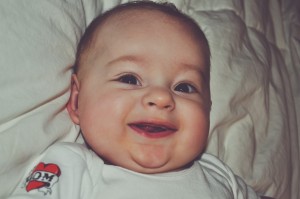 Look at those CHUBBY CHEEKS!
Goal #2 – Toddler Beds
Well, yesterday we just decided to go ahead and do it.  Sutton isn't  napping so we might as well.  We heard horror stories of the transition for other parents so I was prepared for a long night of putting them back in bed.  Nope.  They went straight to sleep.  Easy peasy.  Now we will see how they do at nap time today but it can't get much worse than how Sutton has been all week.  The best part of toddler beds, they woke up, came downstairs and crawled in our bed and watched cartoons for a little bit….giving mommy and daddy a little more rest time.  Mission accomplished.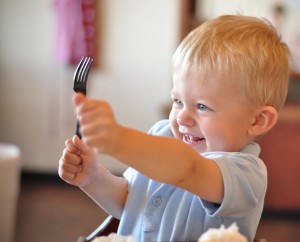 August 2011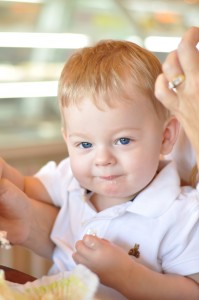 So, next up….potty training.  I think they are ready but we want to have an entire free weekend to do it and that will be happen until the end of October so for now, we will finish our love/hate relationship with diapers.  I love the independence of now worrying about making potty breaks on road trips, at the grocery store, etc.  But man our bank account will LOVE the day we no longer pay for diapers.
I have learned so much from being a parents and so many times I don't do something (take away binks, etc.) because I'm afraid of change and how they will respond but I keep learning over and over that these babies of ours are not babies anymore and they are ready and capable of much more than I give them credit.
I hope goal #3 happens as smooth and easy as #1 and #2.
Until next post…
The Mamarazzi