The story of Evelyn Ann……
I can't believe it has been so long since my last post!  With my photography business and the boys and every day life time slipped by.
First, the boys are awesome.  We really are blessed with two amazing kiddos!  They just wrapped up their final year at preschool and will begin preK in August.  We played tball this spring and it was hilarious!  They did exactly what I thought they would……Fynn was focused and determined to play well and learn the game while Sutton just had fun.  We did swim lessons for two weeks, which helped SO MUCH with their swimming abilities.
so…..
Last year Jason and I discussed when we would make the move and schedule an appointment with the fertility doctor.  We had a summer full of fun and decided to make the appointment for September.  With the boys we had to do a fresh IVF cycle and it took months and months to get my body regulated and to even do the procedure but we didn't know what would take place with a frozen embryo transfer.
It still took months….
But, like always, God had a plan and He is always perfect in His ways.  So, on December 5 we finally got to go in for our transfer.  We were giddy and nervous and super hopeful.  Our little embryo was as perfect as it could be.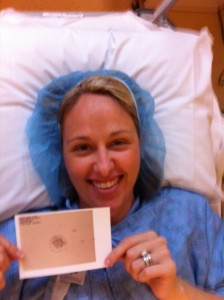 We had two weeks to wait for an actual blood test but less than a week went by and I couldn't wait…..I tested and tested and tested.  Positive!!!!!!!!!!
We were able to tell family and our best friends pretty and then got confirmation with the blood test.  The day before our scheduled ultrasound I started bleeding.  I called Jason crying and I was just terrified of losing this baby.  I wasn't sure I could handle another loss.
The next day our beautiful baby came to the screen and I finally took a deep breath.  Strong heart beat.  That was all I needed to hear.
A couple of weeks went by and then I had some more bleeding.  My OB finally got me in for another ultrasound and we discovered there was a subchorionic hemorrhage, which isn't super uncommon and wasn't horrible but just something to keep an eye on.
Because of the hemorrhage I was at the high risk doctor quite often for ultrasounds.  We got to find out the gender at 16 weeks.  Jason couldn't come to the appointment so I had the tech put it in an envelope.  The boys and I went straight to Jason's office from the doctor and we opened it together.
GIRL.
I was SHOCKED!  I was so convinced it was a boy so it has taken some time for it to all sink in.  Fynn reacted with excitement while Sutton's response was "but I wanted a bbbooooyyyyy!"  At least one was excited.
Everyone was so excited and we constantly get the "you finally get your girl" remarks.  I was just so excited and so blessed to be pregnant.
With monthly visits to the high risk doctor and monthly visits to the regular OB we have had so many confirmations it is a girl and she is a cutie!
The first of June I was informed there were two exposed blood vessels where the cord attaches to the placenta so I would be starting weekly non-stress tests and biophysicals at 32 weeks.  So far so good but ready to have a healthy baby in my arms!
We can't wait to meet you Evelyn Ann.